Next Generation Communications!

Your practice has evolved and staff communications need to keep pace.  Venga dental paging software is up to the task – and then some.  It is the most powerful, flexible and feature-rich communication tool available today – everything that you want modern communications to be. With nearly two decades of experience improving communication and work flow, we're confident you'll find Venga the perfect practice solution! By streamlining your office communications Venga will save your practice time, money and improve your office communications.
 
Why Venga dental paging software?
Venga is intuitive, intelligent, and built for dental practice communications

Venga is powerful and delightfully easy to use

Venga is perfectly designed for small practices, large group practices and even multiple locations
Venga minimizes display clutter by automatically adjusting its size. As your practice grows – Venga grows with it!

Venga doesn't interfere with practice management software

Venga eliminates distracting overhead pages and intercoms

Venga keeps your staff informed with complete real-time office-at-a-glance-view
Venga includes an instant messenger for more detailed messaging between workstations
Venga sends text messages to/from any smartphone
Venga "perfect touch" works with tablets

Venga taps your existing computer network with minimal start-up costs.
New Security Features
Venga is HIPAA secure.  All text/instant messages and pages are encrypted
Venga operates independent of all dental software with no access to Protected Health Information (PHI)
All paging and instant message communication is encrypted
Venga Instant Messenger can mask out received written communication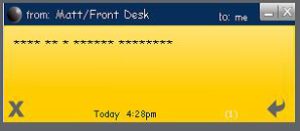 Venga messages routed through the internet are secure using SSL 256-bit encryption
Because we care!
Venga guarantees  messages are successfully sent.  Too, guarantees that messages are received in the order sent  – minor detail!
Venga uses TCP versus the UDP protocol for the most stable and reliable messaging – guaranteed!
Venga includes top shelf support along with personalized training
Take the 30 day Venga challenge try-before-you-buy offer.  Click here to receive a download link
Venga V 6.0 (coming soon) takes intra-office communications to the next level
10% off your Venga order.
Enter

code on "check out" page.

T2VENGA10

Price:

Base package

  $995

Venga™ Version V5 Inter-office Paging Software 15 Paging Locations
Venga™ software installation on 15 computer stations in your office.
Additional Licenses

  $329.95

Venga™ Version V5 Inter-office Paging Software 5 Paging Locations
Venga™ software installation on 5 computer stations in your office.
Ask about Venga Cloud Software-as-a-Service.  Never worry about updates again!
Discount code: T2VENGA10
Take the Venga Challenge 30-day Try-Before-You-Buy
For help please Contact us or call 952-261-9205